HOMTECS- H50 5 Ports Industrial Wireless 4G Modem Router
H50 5 Ports Industrial Wireless 4G Modem Router
HOMTECS/OEM

CHINA

3 DAYS FOR SAMPLES

10000PCS/MONTH
VPN (PPTP / L2TP, IPSec, GRE, OpenVPN)
5 Ethernets, 5 LAN or 4 LAN + 1 WAN
4G / 3G / 2G
RS232 / RS485
WiFi optional
GPS optional
Dual SIM optional
Cloud management optional
H50 5 Ports Industrial Wireless 4G Modem Router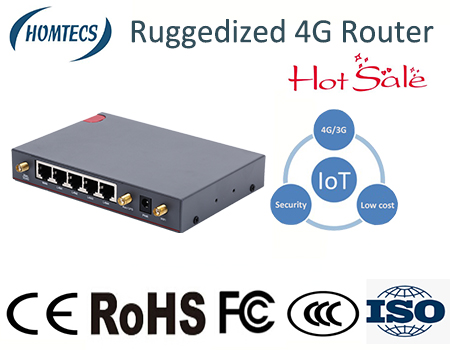 Overview:
H50 5 Ports Industrial Wireless 4G Modem Router is a kind of internet of things wireless communication router, use FDD/TDD-LTE 4G mobile broadband network type to provide convenient and high speed net transmission function.

H50 5 Ports Industrial Wireless 4G Modem Router uses high performance industrial 32 bit communication processor, flush bonding real-time operation system as software supporting platform, provide save, high speed, stable 4G wireless router net, H50 5 Ports Industrial Wireless 4G Modem Router is a wireless router with 5 Ethernet port RJ45 and communication serial port.

H50 5 Ports Industrial Wireless 4G Modem Router can be used in ATM, POS, Vending, Kiosk, finance, postal, smart power grids, smart transportation, environment monitor, fire protection monitor, security, water conservancy, public safety, advertising release, industrial control, earth quake monitor, meteorological watch, instrument monitor.etc

Application
| | |
| --- | --- |
| Energy | Digital Oil/Gas Field, Coal Mine, Solar, Smart Grid |
| Utilities | Smart City, Traffic, Street lighting, Public Safety, 4G Public hotspot, Environment monitoring, Video Surveillance, Telecom equipment supervision, Early Warning of Mountain Torrent, Power distribution network supervision, Central heating system supervision, Weather station data transmission, Hydrologic data acquisitio |
| Industrial | Remote Telemetry, Tanking Monitoring, Automation, Remote PLC, Remote AMR, Remote Data Monitoring and control, CCTV, Security Surveillance |
| Retail | ATM, POS(Point-of-Sale), Vending Machine, Lottery Machine, Branch network, Digital Signage, Video Surveillance, failover between WAN&4G/3G |
| Transportation | Bus WiFi, WiFi on Board, Vehicle video surveillance, Fleet tracking and management, Vehicle logistics and diagnostics controlling, Bus Advertising |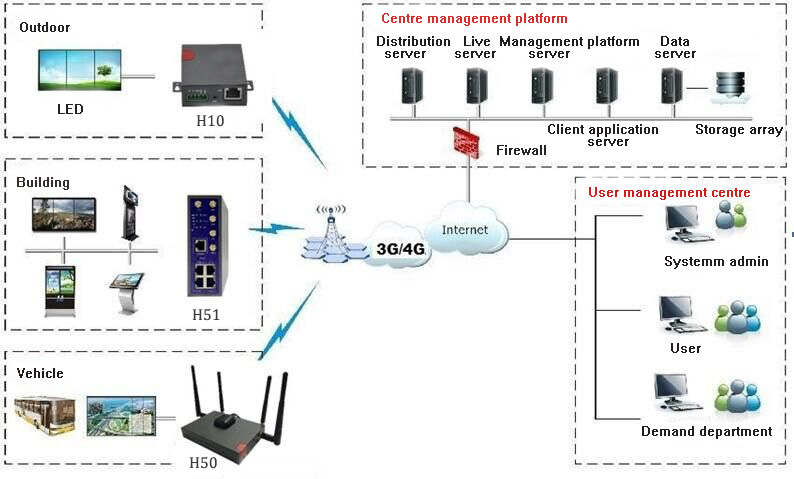 Features:
Industrial robust design and compact metal housing

Strong electromagnetic interference Resistance, heat endurance and radiation ability
Support FDD/TDD-LTE 4G network, 3G and 2.5G backward compatible
Support multiple VPN (PPTP, L2TP, GPE, IPSec etc.)
Support multiple network protocol (ICMP, TCP, UDP, Telnet, SSH, HTTP, HTTPS etc.)
Support multiple functions (DHCP, DNS, DDNS, Firewall, NAT, DMZ host etc.)
2 Antenna interfaces, 1 GSM+ 1 Wi-Fi/GPS
5 Ethernets, 5 LAN or 4 LAN + 1 WAN
WAN port support PPPoE, static IP, DHCP client.
Built-in watch dog, Multi-link detection ensure working in stable and security way
Always online, reboot automatically if disconnected to ensure continual connection
Support APN and VPDN wireless private network access in
LCP/ICMP/flow/heartbeat check, ensure network usability
Web/CLI/SSH/Management platform support, easy configure
SNMP network management, NTP support
Local & remote management (configuration, status, upgrade firmware)
Supports Port forwarding and Bridge
Supports timing operation
Supports LED status indication
Shock and vibration resistant
Advanced:
MIMO Antenna for LTE 300Mbps optional

802.11b/g/n Wi-Fi optional, 150Mbps standard, 300Mbps optional
Dual-redundancy between WAN links: Ethernet, 3G/4G and Wi-Fi backup
GPS capability optional for fleet management or other tracking application
DTU serial communication function optional (rs232/rs485)
OpenVPN Optional
PPTP Sever optional
AT command optional
Control by SMS optional
Schedule reboot optional
Customized and OEM/ODM acceptable
Specification
Cellular





4G(FDD LTE/TDD LTE)

AU: B1/B3/B5/B7/B8/B28, B40
EU: B1/B3/B7/B8/B20/B28/B31, B38/B40
US: B2/B4/B5/B13/B17/B25, B41
JP: B1/B3/B8/B9/B18/B19/B21/B28, B41
CN: B1/B3, B38/B39/B40/B41

3G(UMTS/WCDMA/HSDPA/HSUPA/HSPA+)

850/900/1900/2100 MHz

850/1900/2100 MHz

900/2100 MHz

2G(EDGE/GPRS/CDMA/EVDO)

850/900/1800/1900 MHz

Antenna Interface





Number of ports

1 or 2 (MAIN + AUX/WiFi/GPS)

SIM


1 or 2(3 V & 1.8 V)


Ethernet Interface





Number of ports

5 x 10/100 Mbps, 5 LAN or 4 LAN + 1 WAN

Magnet isolation protection

1.5 KV

Serial Interface





Number of ports

1 x RS-232 or 1 x RS-485

Baud rate

300bps to 230400bps

Software





VPN tunnel

PPTP/L2TP, IPsec, GRE, OpenVPN

Firewall

DMZ, NAT, Filtering (IP/MAC/Port/Url/Access/Domain name)

Management

Web, CLI/Telnet Command, M2M management platform optional, SSH optional, SMS optional

Serial port

Transparent, TCP Client/Server, UDP, Modbus RTU

Others





Reset button

1 x RST

LED indicators

2 x NET, 4 x LAN, 1 x WAN, 1 x WLAN

Power

5 to 32 V DC(standard 12V/1.5A)

Power consumption

Idle: 160 mA@12 V

Data link: 220 mA (peak) @12 V

Housing & Weight

Metal(IP34), 500 g

Dimension

150 x 102 x 25.5 mm

Installation

Desktop, wall mounting and DIN rail mounting

Certification

CE, RoHs, FCC
Model reference:
Homtecs

H50 Series Industrial Cellular Router

Model

4G

3G

DL

UL

Interface

WiFi

GPS

H50-FA2T

FDD/TDD LTE

UMTS

100Mbps

50Mbps

5XLAN

RS232






H50-FA2T-W

FDD/TDD

LTE

UMTS

100Mbps

50Mbps

5XLAN

RS232

Y




H50-FA2T-G

FDD/TDD LTE

UMTS

100Mbps

50Mbps

5XLAN

R232




Y

H50-FA2T-GW

FDD/TDD LTE

UMTS

100Mbps

50Mbps

5XLAN

RS232

Y

Y

H50-FA4T

FDD/TDD LTE

UMTS

100Mbps

50Mbps

5XLAN

RS485






H50-FA4T-W

FDD/TDD

LTE

UMTS

100Mbps

50Mbps

5XLAN

RS485

Y




H50-FA4T-G

FDD/TDD LTE

UMTS

100Mbps

50Mbps

5XLAN

RS485




Y

H50-FA4T-GW

FDD/TDD LTE

UMTS

100Mbps

50Mbps

5XLAN

RS485

Y

Y

H20-WA2T




HSPA+

21Mbps

5.76Mbps

5XLAN

RS232






H50-WA2T-W




HSPA+

21Mbps

5.76Mbps

5XLAN

RS232

Y




H50-WA2T-G




HSPA+

21Mbps

5.76Mbps

5XLAN

RS232




Y

H50-WA2T-GW




HSPA+

21Mbps

5.76Mbps

XLAN

RS232

Y

Y

H50-WA4T




HSPA+

21Mbps

5.76Mbps

5XLAN

RS485






H50-WA4T-W




HSPA+

21Mbps

5.76Mbps

5XLAN

RS485

Y




H50-WA4T-G




HSPA+

21Mbps

5.76Mbps

4XLAN

1XWAN

RS485




Y

H50-WA4T-GW




HSPA+

21Mbps

5.76Mbps

5XLAN

RS485

Y

Y

H50-FA2T-D

(Dual SIM)

FDD/TDD LTE

UMTS

100Mbps

50Mbps

5XLAN






H50-WA2T-D

(Dual SIM)




HSPA+

21Mbps

5.76Mbps

5XLAN