Industrial-grade VPN routers help with self-service washing workshops
17-10-2021
Industrial-grade VPN routers help with self-service washing workshops
As more and more Chinese people join the car family, the car wash market is constantly expanding. By the end of 2016, there are more than 290 million vehicles in the country, and more than 30,000 traditional car wash shops in China. This means that each car wash shop washes nearly 80,000 private cars a year. Basically, the city center of all large and medium-sized cities in the country is not allowed to set up a car wash shop, and 4/5 car wash shops are located outside the city. In this way, the car owner not only faces the car wash to wait in line, but also faces the car that has to be washed for a long time to wash his car.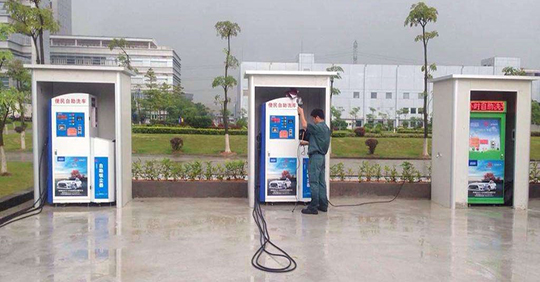 The distribution of self-service washing workshops is sparse and inconvenient to manage and maintain. Internet of Things communication can effectively solve this problem. Through the Internet of Things communication products HOMTECS industrial wireless router, the field devices are connected, and real-time data is transmitted to the background control center.
The function of the router to the self-service washing workshop:
1. Connect the control system (PLC) and operation platform of the self-service washing workshop through the HOMTECS industrial-grade wireless router to monitor the equipment running status of the self-washing workshop in real time. The fault signal is received at the first time to minimize the equipment failure time and improve the utilization rate. . It is also possible to accurately deliver the ads on the operating screen through the control center.
2. Self-service car washing machine mainly uses third-party payment system to complete payment. HOMTECS router can realize online payment of front-end operation platform. HOMTECS router has VPN private network, financial-grade data security, and more supports IPsec VPN, L2TP, PPTP. , VPN, and other VPN encryption modes; support SPI full-state detection, Secure Shell (SSH) and other network firewall functions; widely used in industries with high financial security data security requirements.
3. The location of the self-service washing workshop is distributed in various forms: suburbs, communities, gas stations, parking lots, hotels and other places. The HOMTECS router not only supports wired network access, but also covers all carrier networks, including: Full Netcom/4G/3G/2.5G. Wireless field networking is available through the carrier network when the project is in a remote location.
4, HOMTECS industrial road device is equipped with 4 groups of LAN ports, 1 group of WAN ports, 1 set of USB interfaces; support terminal form RS485, RS232 data transmission, suitable for self-service washing workshop various port equipment networking. Access video surveillance, remote online monitoring, GPS positioning function, can help the scene to deal with emergencies.
5, HOMTECS industrial router has software watchdog and hardware watchdog technology, automatically reply to network failures, continuous online network, to ensure that the device continues to network without dropping, is the ideal choice for financial networking applications. Realize 24 hours of uninterrupted monitoring of self-service washing workshops, real-time fault warning.
Self-service washing workshop network topology: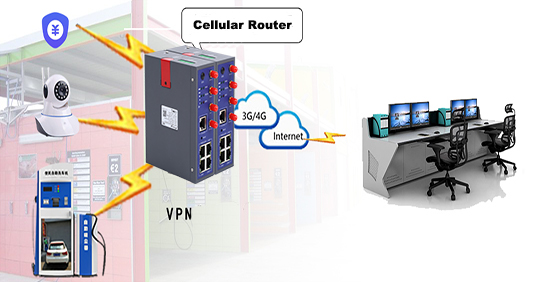 Application advantage
1. Eliminate a lot of wiring troubles, wireless networking, easy to use;
2. Optimize payment methods to achieve fast payment;
3, 24 hours unattended, significantly reducing labor costs;
4. Real-time dynamic monitoring, fast transmission and reception of equipment running data;
5, equipment operation status monitoring, only manual timing inspection and sudden fault maintenance;