5g intelligent medical solution
5g intelligent medical solution
1, Project background
After a slight easing of the current world epidemic, COVID-19 has begun to mutate and the epidemic situation has become more severe. People in various countries are suffering from epidemic disease and serious shortage of medical resources. The current situation poses great challenges to medical resources in various countries.
We need to establish an efficient and intelligent medical system to help colleagues in the medical industry upgrade the hospital's information network platform system, improve the overall service level of the hospital, and enable relevant medical personnel to enjoy efficient, convenient and high-quality diagnosis and treatment services.
2, Solution
Using the industrial 5g gateway of Dechuan technology to establish a 5g network with high bandwidth, low delay and wide connection and related Internet of things technology, it can collect and monitor data such as wireless monitoring and mobile nursing, and upload it to the remote expert server for analysis and processing in the business server in the hospital, which can greatly improve the efficiency of local medical care.
With the help of 5g, artificial intelligence and cloud computing technology, doctors can provide on-site medical personnel with remote real-time consultation, emergency rescue guidance and other services through the medical diagnosis system based on high-definition video and image.
The on-site staff of Xinguan patients can connect to 5g ultra-high speed network through portable medical receiving terminal and communicate with telemedicine experts through cloud medical server, so as to provide high-level medical services for patients anytime and anywhere.
3, Scheme topology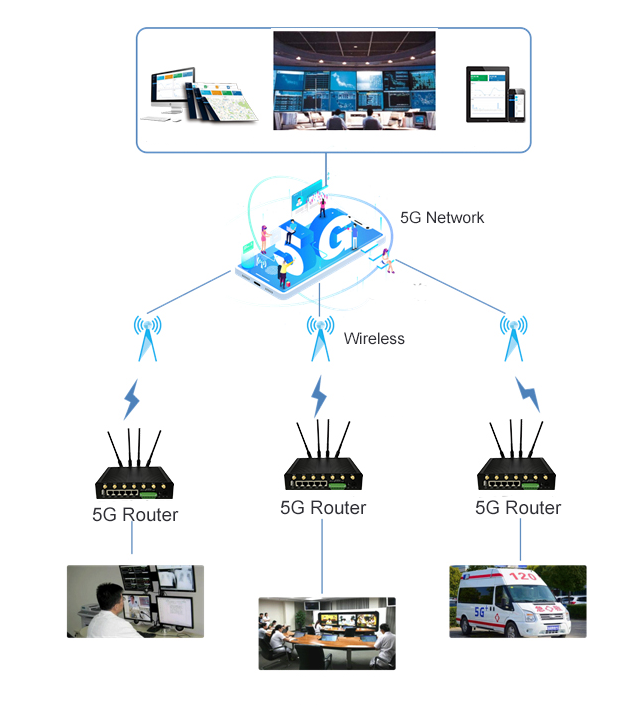 4, 5g gateway product introduction
High performance MIPS multi-core processor
High-performance industrial wireless communication module and supports all Netcom and VPDN private network
Provide 5 gigabit network ports (support VLAN function), 1 channel 232 + 1 channel 485, dual band WiFi
Support multi protocol VPN
Support hardware WDT and provide anti drop mechanism
Support DHCP, DDNS, firewall, NAT, VRRP, DMZ host and other functions
Support SNMP management protocol
Support secondary development and software function customization
Support local / cloud deployment of remote M2M platform to facilitate operation and maintenance management