Application scheme of networked transmission in intelligent parking lot
Application scheme of networked transmission in intelligent parking lot
Programme background
At present, automobile production and sales continue to grow, and automobile ownership also increases year by year, resulting in an increasing global parking space gap year by year. The construction of information-based parking system has become a difficult problem of social congestion and shortage of parking spaces.
Industry pain points

1.Can't find a parking space, waste of time
2. The traditional manual charging method has long queuing time and low parking space turnover rate
3. High labor cost and serious loss of expenses
4. Serious illegal parking and lack of effective supervision means affect road traffic
5. The lack of comprehensive and accurate data can not provide effective data support for parking planning and management
Homtecs cooperates with the parking system of a company to create an integrated intelligent parking management system from the front end to the cloud. Through the charging system, fixed vehicles can pass in and out without parking, temporary vehicles can enter without parking, and the exit payment can be released automatically. The whole parking lot charging system has simple structure, stability and reliability, and is convenient for installation, maintenance and use.
System networking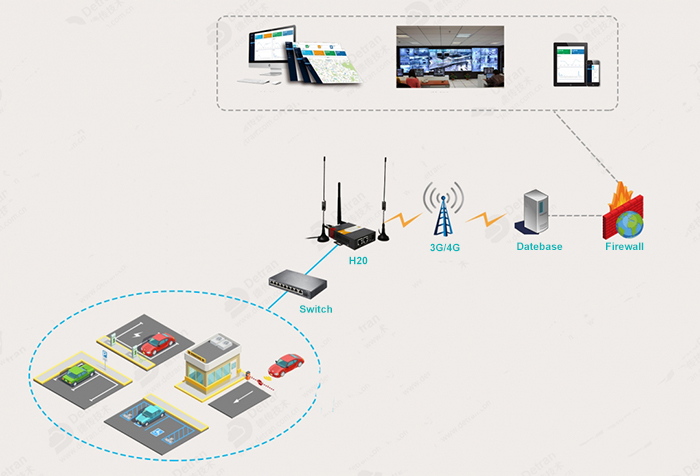 System introduction
1. Intelligent camera all-in-one machine: take photos to record the license plate information, automatically record the vehicle access time, and form real-time accurate and visual parking information, which is convenient for the background to update the parking space in time. You can query the parking space information through the mobile app.
2. Local client: cache and report the video data of the camera to the cloud
3. Led charging display screen: display the parking fee of vehicles and identify the number of vehicles entering and leaving
4. Dechuan industrial Router: provide network for front-end equipment, and quickly scan code and pay with one click
5. Management cloud platform: summarize and process the collection and release of parking lot data, including data collection, data processing, information release and other functions
System advantages
1. Cost reduction and efficiency increase of unattended parking lot
2. Multi area management of the parking lot realizes the accurate management of different parking areas in the same parking lot
3. It supports charging by times, charging by time and length, charging by time and section, and charging by steps, which can basically meet the charging rules of all parking lots.
4. Parking lot empty parking space guidance function, empty parking space display and networking with city / regional parking space guidance system. Installed in each parking area;
Related products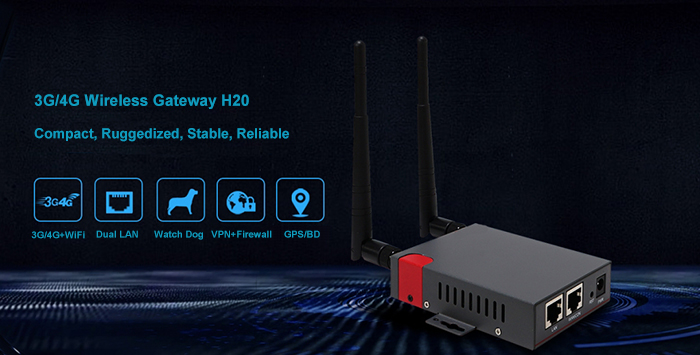 1. Support PPTP, L2TP, IPSec or GRE and other VPN protocols
2. Support DHCP, DDNS, firewall, NAT, DMZ host and other functions
3. Support wired and 4G networks to back up each other

4. Support ICMP, TCP, UDP, Telnet, SSH, FTP, HTTP, HTTPS and other network protocols
5. Support hardware WDT and provide anti drop mechanism to ensure that the data terminal is always online
6. The software and hardware watchdog and multi-level link detection mechanism are adopted, which has the ability of automatic fault detection and automatic recovery to ensure the stable and reliable operation of the equipment
7. Expandable: GPS & Beidou Positioning, WiFi forced advertisement push
8. Equipment remote management: parameter configuration, parameter backup, remote restart and log query, remote equipment upgrade, equipment online monitoring