5G + NB-IoT to build an IoT ecosystem
24-06-2020
The 5G commercial wave accelerates the advent of the Internet of Everything. At present, the Internet of Things is moving from "interconnected" to "intelligently connected". NB-IoT, as the mainstream Internet of Things technology, is showing new vitality. In November, the three major operators announced the official commercialization of 5G. Although it is only January, the undercurrent in the vertical field is surging.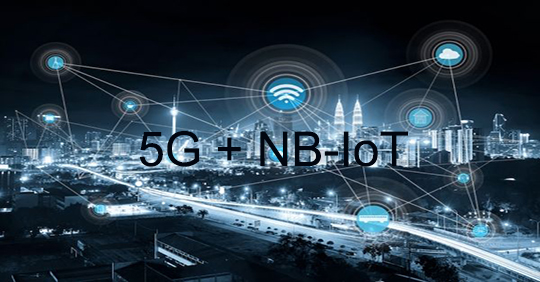 NB-IoT enters the outbreak of Sichuan into the fast lane of IoT development
Earlier, Minister of Industry and Information Technology Miao Wei mentioned in the Boao Forum for Asia speech in 2019 that it is expected that 20% of 5G will be used for communication between people and 80% will be used for communication between things.
At present, the three companies have established 5G + key industries, smart cities, smart healthcare, smart manufacturing, remote driving, industrial Internet ... In these value areas, the Internet of Things has become an indispensable element. Based on the Internet of Things, Terminals, applications, and services are emerging. It is particularly worth mentioning that in the southern market, the prosperity of the Sichuan Internet of Things industry.
It is understood that Sichuan is one of the first 7 NB-IoT test provinces. As early as 2016, Sichuan Telecom re-cultivated the 800MLTE network and invested hundreds of millions of yuan to build a IoT private network. In May 2017, China Telecom took the lead in building The world's most extensive new generation commercial IoT NB-IoT network, with a total of 310,000 NB-IoT base stations nationwide, with an activation rate of 95%. As of the end of October 2019, there were more than 28,000 NB base stations in Sichuan province, and the city's opening rate reached 98.65%.
With the continuous deepening of 5G + IoT, Sichuan Telecom's NB-IoT technology-based smart parking, smart lighting, smart water, smart gas, and smart firefighting, and many other IoT innovative applications have been continuously implemented, which has accelerated the transformation of Sichuan's economic development mode It is playing an increasingly important role in promoting the transformation and upgrading of traditional industries and serving the people's livelihood.
Empowering thousands of industries Sichuan Telecom 5G + NB-IoT to build an IoT ecosystem
In fact, Sichuan Telecom has a long history of ecological layout in the Internet of Things industry. It has aggregated upstream and downstream companies in the industrial chain to create a new type of Internet of Things ecosystem. Only the recruitment of DICT partners started earlier this year has involved more than 100 industries in the country involving cloud. More than 1,000 companies in computing, Internet of Things and other fields joined.
Recently, at the "5G Internet of Things Industry Summit Forum" held in Chengdu, Sichuan, Sichuan Telecom signed cooperation agreements with dozens of upstream and downstream enterprises in the industry, and jointly demonstrated with partners 5G Smart Water Affairs, 5G Smart Gas, 5G Smart Lighting, 5G Smart life, 5G smart fire, 5G smart travel, 5G drone and many other innovative application content based on NB-IoT technology. Among them, Sichuan Telecom's IoT industry aggregation platform "Magic Cube Platform" has more than 3.95 million registered terminals, more than 50 aggregation applications, and more than 800 partners. It is building a 5G + IoT industry ecosystem in Sichuan to help Sichuan public Make important contributions to the development of the service industry.
It is understood that Sichuan Telecom's Muchuan Smart Water Project, Mianyang Lvhuan Smart Gas Project, Chenghua District Smart Manhole Application Project, and two-vehicle anti-theft smart travel projects are all iconic projects in the industry. Among them, the Sichuan Leshan Muchuan Smart Water Project, which packs the water platform business with the Internet of Things, Tianyi Cloud, and fiber optic services, can solve the urgent problems of automatic payment and ladder accounting, which have long been troubled by customers, at low cost. Currently, it has been operating stably for more than half a year.
The joint public security department has created the "Smart Cloud Wall Protection Project" in Quzhou, which has reduced the rate of various types of cases in Quzhou for three consecutive years. At least 1,500 cases have been cracked and more than a thousand criminal suspects have been arrested. One of the highlights of the Cloud Wall project is the "two-car guards". In August this year, they assisted the police of the Criminal Investigation Brigade of the Jiangyang District Bureau of the Chenzhou Public Security Bureau to complete the interprovincial pursuit within 6 hours.
With the commercialization of 5G, a new era of the Internet of Things is interconnected by things, people, and things. The value of NB-IoT is not limited to a set of new technologies and a new network, but more importantly, it is related to vertical industries. Industrial dividends from cooperation. According to relevant data, the number of 5G connections in China is expected to reach 428 million by 2025, the scale of global IoT connections will exceed 30 billion, and the scale of the IoT industry will reach US $ 1.1 trillion.
As the main force of Sichuan informatization construction, Sichuan Telecom shoulders the heavy responsibility of deeply cultivating the Internet of Things and exploring new industry development directions with industrial partners. 5G is commercially available. In the future, Sichuan Telecom will continue to accelerate the 5G layout and aggregate the advantages of industry chain partners. It is bound to write a new chapter in the development of a strong province in the Internet and digital Sichuan, and create a better new life for the people with better information services.